In a world saturated with numerous types of body care products, it can be overwhelming to find the best foot cream. One of the most common questions we get is "which foot cream do you recommend?". Basically, we would only recommend something we would personally use ourselves – does the cream work? Is it greasy? Is it gentle enough for sensitive skin? Does it have any bad chemicals? Does it have any smell? If so, does it smell nice? These are some of the questions we asked when we were on the hunt for the best foot cream. And, mediocre products wouldn't make it to our list. It had to be something special.
Eventually, we found the best foot cream.
After some intensive research, we came across AHAVA. AHAVA is a skin care company in Israel whose products strike a perfect balance between nature and science, caring both for the skin and the environment. They have a laboratory by the west bank of Dead Sea. It is not surprising to see ingredients like Dead Sea water, Dead Sea salt, and Dead Sea mud incorporated into their products. Essentially, these Dead Sea components make AHAVA products one of a kind.
On top of that, all AHAVA products are PARABEN FREE, VEGAN, ALLERGY TESTED and 100% NATURAL, including the foot creams we will be discussing. All of their natural ingredients are sourced from nature, never from GMOs. AHAVA also never formulates products with questionable compounds, such as, sodium lauryl sulphate (SLS), Phthalates and Triclosan.
If you know something about skin care products, you would know how difficult it is to find good, natural products without nasty chemicals! Unfortunately, many foot creams that you can find at the chemist are loaded with chemicals that you don't want in your body. Fundamentally, you get what you pay for.
Introducing, AHAVA Dermud Foot Cream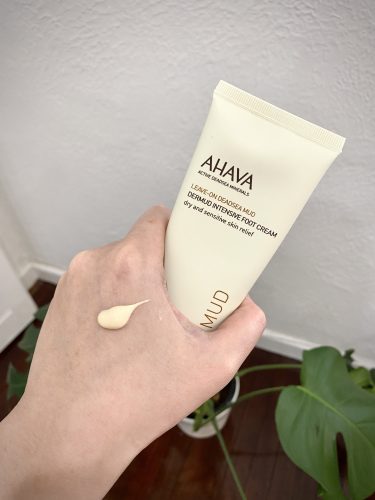 We have been using the AHAVA Dermud Foot Cream on our clients for a few years now. It is quite safe for us to say that this foot cream has been dearly loved by us and our clients!
Formulated with dry, rough and irritated skin in mind, the velvety AHAVA Dermud Foot Cream helps rejuvenate and rehydrate distressed skin. It has a mild pleasant fragrant which we love, and we are quite particular about the smell of a product.
So, let's have a look at the active ingredients in the AHAVA Dermud Foot Cream, shall we?
What's in it?
Osmoter – the hero ingredient and power train of AHAVA products. Osmoter is a unique blend of minerals sourced from Dead Sea waters exclusive to AHAVA.
Dead Sea Mineral Mud – the Dead Sea mud is rich in minerals that are great for our skin. If you visit the Dead Sea, you are very likely to see people plastered with mud like this.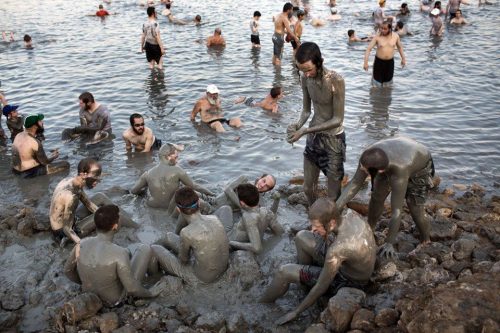 Aloe vera leaf extract – did you know aloe vera was a cactus? It contains amino acids, phytohormones and various minerals. The aloe vera plant has been hailed as a medicinal plant with superior soothing and healing benefits, acting as a soothing agent for skin irritations, wounds and inflammations. Aloe vera also adds to the moisturising property of cosmetic products.
Allantoin – it is present in botanical extracts of Comfrey, a native European plant. It has properties that help soothe and calm irritation. Allantoin is useful in treating atopic dermatitis, psoriasis, wounds, ulcers and burns. It promotes renewal of skin cells which accelerates wound healing.
Hypophea oil – it is a natural oil extracted from the leaves and fruit of the Hypophea bush. Thanks to its high content of flavonoids, essential fatty acids, Vitamins C, A and E, hypophea oil is soothing and anti-inflammatory, which is brilliant for calming skin itchiness and irritation.
Shea butter – a nut butter that is rich in essential fatty acids and Vitamins A & E. Shea butter forms a natural barrier against the evaporation of moisture from the skin, increasing moisture retention. It also softens cracked and damaged skin.
Coconut oil and jojoba seed oil – increase moisture seal to prevent dryness, so that your skin can retain moisture better.
Pro-vitamin B5 and vitamin E – they are vitamins essential for beautiful skin. This combo promotes rejuvenation of the skin, helping skin regain life and vibrancy.
Who should use this?
The AHAVA Dermud Foot Cream is ideal for cracked, rough feet. It softens rough skin, calms skin irritation and offers intense hydration. On top of that, the ingredients in the cream actually work together to help your skin function better, improving the health of your skin from within.
The cream has a velvety texture that is very easy to glide on the skin, so a little goes a long way. Of course, it doesn't hurt to be generous with the cream.
The best time to use a foot cream is after shower when your skin is moist and supple. This way the cream can lock the moisture in, optimising the effective of the cream. Make sure you rub the cream in until it is fully absorbed (it doesn't take long). Otherwise, your carpet, socks, or bedsheet may absorb the cream before your skin does.
Have we mentioned that the cream doesn't leave a greasy feel on your feet? Well, it doesn't. The cream will only make your feet silky smooth.
Latest addition – AHAVA Mineral Foot Cream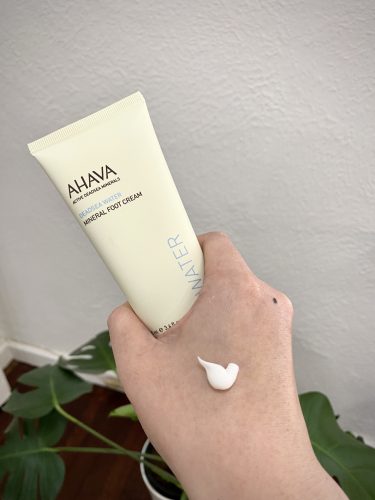 The AHAVA Mineral Foot Cream is the latest addition to our range. It just landed on our shelf a couple of days ago! The AHAVA Mineral Foot Cream has almost the same great ingredients as the AHAVA Dermud Foot Cream, so let's have a look at what's in it!
What's in it?
Osmoter – like its cousin, the Mineral Foot Cream is also powered by AHAVA's unique blend of Dead Sea minerals.
Dead Sea water – with it being a lighter version of the Dermud Foot Cream, the Mineral Foot Cream has a high Dead Sea water content which gives its gel-like texture. Dead Sea water is naturally rich in minerals such as magnesium, calcium, phosphates, potassium, strontium and bromides. These minerals are essential for supple and well hydrated skin.
Glycerin – It is a thick colourless liquid compound that is common in beauty products as a humectant, which absorbs ambient water to help seal in moisture.
Avocado oil, wheat germ oil, sweet almond oil and jojoba oil – smooth, soften and nourish the skin of your feet.
Salicylic acid – for gentle exfoliation of dead skin on your feet.
Aloe vera – soothing and hydrating.
Tea tree oil – antibacterial.
Who should use this?
The AHAVA Mineral Foot Cream is a lighter foot cream that has a water-like consistency. It is ideal for feet with mild to moderate dryness, or as an ongoing care for already beautiful feet.
Similar to the Dermud Foot Cream, a little goes a long way with the Mineral Foot Cream. It also has a mild floral fragrant that we enjoy. The formula is easily absorbed by the skin without leaving any greasy residue on the skin.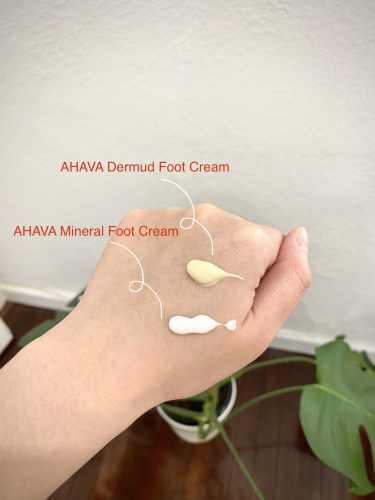 Major differences between the two
Consistency – like we mentioned earlier, the Dermud Foot Cream has a richer texture while the Mineral Foot Cream is more light-weight and water-like. The Dermud Foot cream has Dead Sea mud in it while the Mineral Foot Cream has Dead Sea water in it.
Smell – they both have a pleasant scent, but you would be able to smell the subtle difference. If we were to describe it, the Dermud Foot Cream probably has a more earthy scent to it, and the Mineral Foot Cream has more floral notes. Neither has fragrance so strong that it would make you sneeze.
But, both are the same in the following ways
They are both paraben free and allergy tested.
They contain skin-boosting minerals from the Dead Sea.
A little goes a long way.
They both leave a smooth finish on the skin without greasiness.
They are the best quality foot cream you can get.
Which is the right foot cream for you?
Either way, you can't go wrong. You can never over-moisturise your feet. If you have mild dryness, the Mineral Foot Cream will work beautifully for you; If you have rough, cracked skin, the Dermud Foot Cream will suit your skin needs more.
BUT, the best foot cream can only be the best when you use it. Use it on a daily basis, and you will see results. Make it a night-time pampering routine, so you can take time to put the cream on, massage it in, and relax!
We know that nothing beats feeling the actual product first before deciding, so if that's what you want to do, head over to our shop at 339 Guildford Road, Bayswater. We will be happy to have a chat and give you a hand!
Are you new here?
Welcome! It's so great to see you on our blog. We hope you have enjoyed your time here so far. Since you are new, you may want to get to know us better by finding out the 5 things your podiatrist wants you to know.
Also, did you know we treat plantar fasciitis, hip pain and growing pains too? Learn more about what we do as podiatrists in our blog!
That's all from us for today. See you next time!