Swift Microwave Therapy -
Effective Plantar Wart Removal
What is Swift Microwave Therapy?
Swift Microwave is a wart removal utilising medical microwave technology to effectively resolve warts (also known as plantar wart, verruca).
A focused microwave signal is emitted into the skin to a predetermined depth to ensure only the wart is treated. The infected skin cells are heated to 42-45 degrees celsius, initiating Heat Shock within the cells. 
This causes the wart to release certain proteins into the circulatory system, allowing the immune system to recognise the infection and begin to fight the virus.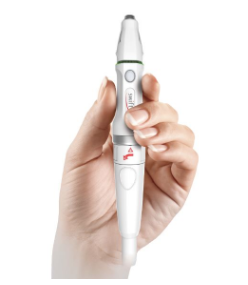 Warts (plantar wart, verruca) are a common contagious infection in the outer layers of the skin which are caused by Human Papilloma Virus (HPV). 
They can spread to other areas of our body and from person to person. Warts are also generally very difficult to get rid of, as they are excellent at evading the body's immune system. 
Swift Microwave Therapy has been proven to be an effective wart removal by triggering an immune response from the body. 
How many treatments will I need?
Most warts resolve within 3 treatments of Swift Microwave. Some may require more or less depending on how you respond to the treatment. Standard protocol is 3 treatments, 4 weeks apart with a 12-week follow up. Following the protocol yields a success rate of 83%*. In comparison to other traditional wart removal treatments, Swift Microwave offers a much shorter treatment time frame and more predictable results.

*Based on data collected and analysed from post market surveillance July 2017 of trained SWIFT users.
Say Bye to Plantar Warts!
Start your wart removal journey today.
How
Works as Wart Removal
Plantar wart tissue can exist several millimetres below the surface and can often be difficult to treat using traditional methods, resulting in either untreated tissue or significant damage. 
Swift Microwave delivers a precise, highly controlled energy dose. As microwaves travel into the tissue, water molecules begin colliding and creating localised heat energy – quickly destroying all verruca tissue within a predetermined depth. 
In just seconds the treatment is complete, leaving the body to absorb and replace the treated tissue. 
So long, plantar wart!
Swift Microwave Wart Removal
Frequently
asked Questions
Feel great about your feet again
Fancy a read?
We also wrote a blogpost on Swift Microwave Therapy.